Home
Alcohol Server Card

Michigan Mandatory Server Training
Michigan Alcohol Server Card

Mandatory Server Training Information
Do you need to get your mandatory server training certificate?
Earn your Michigan mandatory server training certificate (commonly called: "Michigan bartender license") by completing the Responsible Serving® of Alcohol Course for Michigan.
Alcohol Server Card

Michigan Mandatory Server Training Course Approval
The Rserving® Michigan Responsible Serving® of Alcohol server training program is APPROVED by the Michigan Liquor Control Commission as an on-premises online server training program. This Michigan alcohol server training meets the Michigan mandatory server training requirement for supervisory personnel on each shift and during all hours when alcoholic liquor is served.


Employers receive discount pricing.

Receive your official PSCC Rserving Responsible Serving® of Alcohol Wallet Card for MI Responsible Serving® of Alcohol in the mail!
No Extra Charge!
After you complete the course, you are able to generate your printable certificate for MI Responsible Serving® of Alcohol immediately.
You will automatically receive your PSCC Rserving bartender's license / wallet card for MI in the mail within 15 days if you are in a state where wallet cards are issued.
Take this online course to receive your alcohol server certification card.
Responsible alcohol server training ensures that sellers and servers of alcohol understand the liquor laws in their states and serve responsibly. Some areas require alcohol seller/server certification for any employee that handles alcohol.
Our responsible server online course can be taken in one or more online sessions and satisfies the requirements in most areas. This training meets the requirements or recommendations (if applicable) in most states and jurisdictions. It is a good idea to get this certification because many establishments require this training to lower their insurance rates and the chances of failing a sting or alcohol check. This certification can also help you stand out from other job applicants who don't have server certification.
General Information
This course is designed to help you maximize your knowledge of alcohol service through easy-to-master lessons. As you move through the course, you will learn specific and detailed information about how to serve alcohol responsibly.

How long does the course take?
For most people, this course will take just a couple of hours to complete. However, the course is self-paced and any additional time needed will depend on your personal study habits. You can take as much time as you need to study the course material and there are no penalties for retaking the quizzes.

Click the
add to cart
button below and proceed to the checkout to get signed up. You will be emailed a username/password to login and begin.
---
Alcohol Server Card

Michigan Mandatory Server Training is also available through the following offer:
Approved for alcohol server training by the Michigan Liquor Control Commission
Related Courses for Michigan:
What is the minimum age to sell/serve alcohol in Michigan?
The minimum age to sell and serve alcohol in Michigan is 18.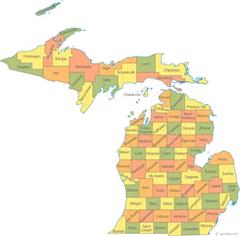 ---
The Michigan Liquor Control Commission
The agency that handles Michigan liquor licensing and/or bartender licensing rules and regulations in Michigan is The Michigan Liquor Control Commission. The contact information for The Michigan Liquor Control Commission is listed below. You can contact them to verify that online server certification (bartender license) can be obtained in Michigan. We have also listed that information where applicable.
The Michigan Liquor Control Commission
Telephone:
517-284-6250

http://www.michigan.gov/lara/0,4601,7-154-10570_21734-378395--,00.html
Bartending License, mandatory server training certificate regulations for sellers and servers in Michigan
MI Dram Shop Laws: Yes
MI Happy Hour Laws: Happy Hour Laws reference the prohibited practices that result in excessive consumption of alcoholic beverages by consumers. You may NOT: Serve or sell two or more drinks at a price less than the number of containers actually sold - "two for the price of one." Serve more than what a customer is paying for - no free drinks. Sell an undetermined quantity of alcohol for a fixed price- "all you can drink." Sell alcoholic beverages at a reduced price to consumers paying a fixed "buy-in" price.